Our LED Light treatment device is a non-invasive, professional-grade light therapy system scientifically-proven light therapy system to improve the appearance of your skin.   Achieve long term results with a simple, painless, and relaxing maintenance plan.
L.E.D. STANDS FOR LIGHT EMITTING DIODES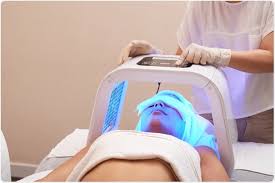 LED's are light sources that release energy in the form of photons.  They release specific wavelengths of energy-producing light into the deeper layers of the skin, each with certain benefits.   
Red Light – Increases blood circulation, stimulates skin cells to produce collagen
Green Light – Anti-aging and improve redness
Blue Light – Cures acne, kills bacteria and improves sensitive skin
Purple Light – Relaxing, improve lymph metabolism, strengthen the protein fiber tissue, shrink pores
Yellow Light – Inhibits melanin production in order to fade dark spots, freckles, and blemishes
Orange Light – Gentle acne treatment, inflammation, skin mitigation
BENEFITS OF LED LIGHT THERAPY
Builds collagen and elastin (anti-aging)
Greatly reduces inflammation and pain (calming, healing)
Reduces couperose conditions (redness, flushing, and broken capillaries)
Fades scars and stretch marks
Speeds wound healing (including open wounds and acne)
Help skin to retain moisture
Ideal for all skin types
No downtime, able to return to daily activity immediately after treatment
Multiple applications (uses) that address a variety of skin conditions 
As always, these plans will be more personalized as needed depending on your concerns.  Times are determined by your problem areas and usually range from 30 minutes to an hour, depending on severity.
 – $50 per half hour
– Red / Green / Purple – As the epidermis absorbs the light, it stimulates the fibroblasts that produce collagen to help treat fine lines and wrinkles.  Gives skin a more plumped, smooth appearance. 
 – Blue / Orange / Yellow – Producing oxygen flow to kill off the bacteria that causes acne.  Eliminating the bacteria from the skin decreases the inflammation associated with red pimples (papules) seen in acne.  After a number of treatments, the blemishes disappear, and skin regains its normal appearance.
 1 Treatment Only – Use as appearance booster, which gives users a mild improvement in texture of their skin.
3 Treatments – Conducted twice a week, three sessions of light therapy treatments generally result in reduction of the pore size, and smoother application of makeup on the skin.
6 Treatments – Conducted twice a week, most users feel a reduction in size of their pores and improved overall texture, tone and feel of their skin, giving it a more vibrant glow. 
12 Treatments – Conducted 3 times a week, this advanced treatment protocol results in the maximum effects of the therapy. 
LED AS AN ADD ON TREATMENT
Adding the LED to your treatments will assist in penetration of products.
LED assist in post procedure healing for microneedling